Taizo Abe
Life Founder

Taizo Abe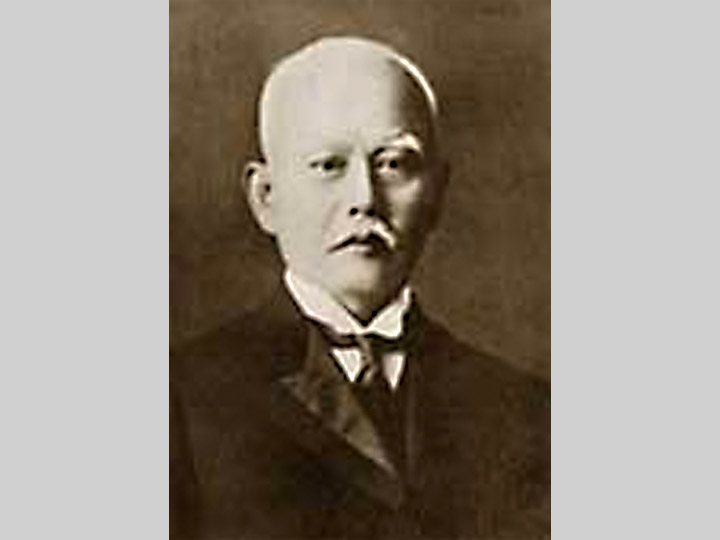 Meiji Life founder Taizo Abe was a standout, even amid the remarkable team of talent that shaped the early Mitsubishi organization. A scholar and humanist, he helped instill in Mitsubishi a lasting commitment to serving the greater good of the community.
Taizo Abe was born in 1849, just four years before Commodore Matthew Perry forced Japan's opening to the world. His father was a physician and teacher. The young Taizo, following in his father's footsteps, apprenticed to a physician at the age of 12. He soon abandoned his medical studies, however, in favor of the study of Confucianism.
Abe traveled to Tokyo in the 1860s amid the ferment that preceded and accompanied the Meiji Restoration. He dedicated himself in the capital to "Dutch learning" the study of Western science and technology. The term refers to the years before the restoration, when the Dutch were the only Westerners in Japan and thus the main source of Western knowledge.
The eager student developed an interest in trade and banking. Abe's studies convinced him that the British were the most-suitable models in those subjects. So, he enrolled in an English language school. Among his fellow students at the language school was Heigoro Shoda, another prominent figure in Mitsubishi history.
Abe, like Shoda, studied under the famous scholar and promoter of western knowledge, Yukichi Fukuzawa. And he subsequently served as a university professor and in Japan's Ministry of Education before entering the world of business. While in the ministry, Abe traveled to the United States to study the educational system there.
Preaching insurance
As Abe became increasingly interested in business, he noted Japan's lack of a modern insurance industry. He established Meiji Life, Japan's first modern life insurer, in 1881. Helping him set up the company were Heigoro Shoda and other former students of Fukuzawa, along with Mitsubishi. Abe served as the first president of Meiji Life and later assumed the chairmanship.
Meiji Life diversified into property and casualty insurance in 1888 under Abe's stewardship. The company spun off its property and casualty business as Meiji Fire Insurance, which later merged with Tokio Marine.
Life insurance, Abe insisted, is a social means of mutual assistance. It is a way for long-lived individuals to share their good fortune with the relatives and other beneficiaries of less-fortunate, shorter-lived people. Well-conceived insurance is a boon to society, he emphasized, and also to the individual.
Abe preached the benefits of employee life insurance to Japan's rapidly multiplying capitalists. Employees can concentrate better on their work, he explained, when they know that their families will be provided for in their absence. His marketing proved highly successful in propagating employee insurance plans.
Promoting the sound development of the insurance industry became a lifetime project for Abe. He participated in drafting Japan's insurance law of 1900, which established a formal legal framework for the modern industry. Abe culminated his career by fostering insurance markets in Korea and northeast China regions that he visited in 1916. He resigned the chairmanship of Meiji Life in 1917 but remained a director until his death in 1924.